Rob Gronkowski will be in the WWE. Now, in what capacity? That's the real question.
Here's the answer: Gronk will be nothing more than a sideshow attraction a few times a year. Here are a few factors why that's the case. . .
HEALTH
The future Hall of Fame tight end has made his well being-paramount over the last year-plus.
Gronk followed the TB12 method this past offseason trying to get himself into better shape. This effort was in no doubt turn the tide on the slew of injuries he's suffered over the course of his playing career.
Gronkowski has missed 31 games due to injury in 8 seasons. He's also had an astounding 10-plus surgeries since college. And even though he's recently claimed to be in the best physical condition of his life, there's no question the sport has taken a toll on his body.
The great
Tom E. Curran of NBC Sports Boston
has done an excellent job covering this topic, saying it's "starting to wear on him mentally and physically, the atmosphere in Foxboro. . . He seriously considered stepping away from the game in training camp."
The thought of retirement swirling before the start of the season, and the concussion he suffered against the Jaguars in the AFC Championship Game probably isn't helping.
And for those reasons stated above Gronk will appear maybe 10 times in WWE in a calendar year. If he's looking for a less brutal option, the life of a wrestler is not a good one.
Okay, wrestling fans, sit back and relax as I talk down to the outsiders who have hopefully come here to read this article.
Yes, we all know wrestling is fake, but scripted is the more accurate term.
The bumps, which is when a wrestler falls or is slammed to the ground, those hurt.
The punches and kicks are not full force and may not always connect, but every slam and suplex is real.
There have been countless gruesome injuries and severe concussions in professional wrestling.
There's no way he'd walk away from football to pursue a full-time job that works 300 days of the year and is consistently on the road.
His body would be subjected to an almost comparable amount of abuse.
Gronk would never take that kind of risk to wrestle professionally. Especially given his recent interest in preserving his body.
NOT A READY-MADE STAR
I'm guaranteeing Gronk will be at Wrestlemania, but trust me, he won't be wrestling John Cena in a 20-minute match.
You just don't roll out of bed and into the WWE. It's not a skill you learn overnight.
Gronk is 9 months to a year of training away from being able to hang with the NXT wrestlers, and for those of you who don't know, that is the minor leagues of the WWE.
None of the sports stars who have crossed over have ever had real matches.
Even Lawrence Taylor, who was in the Main Event at a Wrestlemania,
didn't look great in the squared circle
. His 12-minute match was full of rest holds and sloppy suplexes. He was completely gassed by the end of the night.
Again, this is why Gronk would be used in what I like to call the "Mike Tyson Capacity." I define that as a celebrity used sparingly to elevate a storyline.
When Tyson got involved with wrestling during the Attitude Era he wasn't on a full schedule. In fact, he rarely appeared and was only physical a few times.
Gronk isn't half as famous as Iron Mike.
Trust me, the WWE isn't looking at Gronk as the next big thing.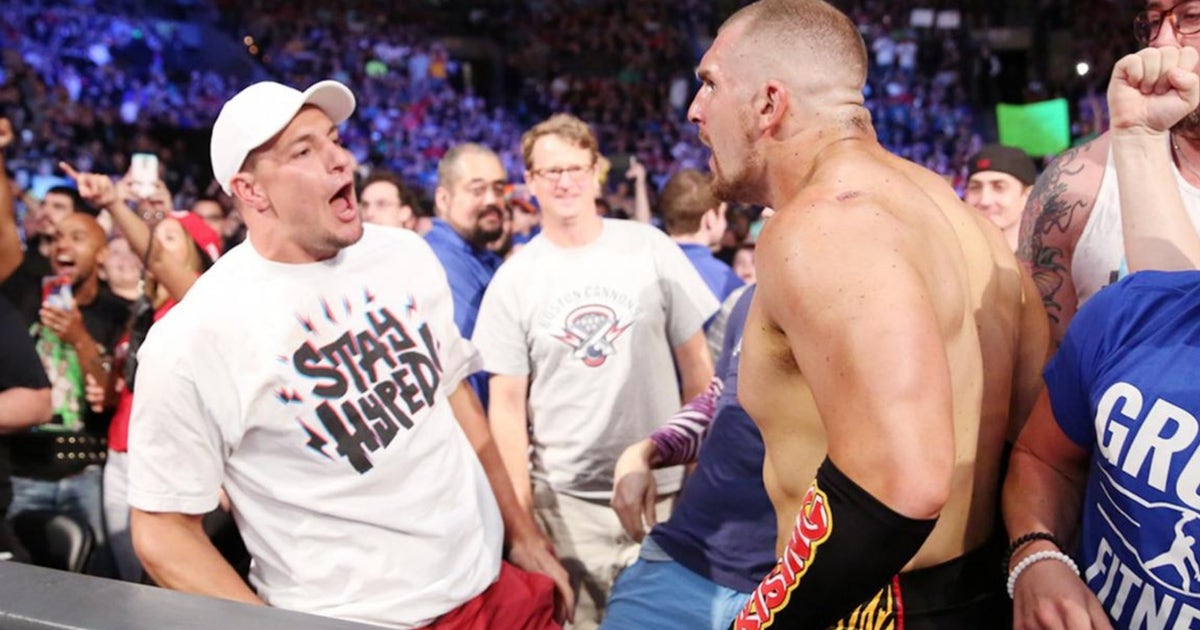 And Gronk's greatest connection to WWE is Mojo Rawley.
Mojo is so irrelevant he is barely booked on SmackDown Live which is the lesser of the two WWE brands.
If the plans are to team the two of them together, Gronk would be better off joining the independent wrestling circuit.
Mojo was given a huge push last year at Wrestlemania and did absolutely nothing with it. Gronk didn't help him get over last year, and he won't help him get over this year or ever for that matter.
HE'S NOT SPECIAL
Gronk is not a unique athlete in the WWE.
6-foot 6-inch guys with agility and speed are a dime a dozen in wrestling.
Gronk would be a normal sized competitor in the main event picture. And his physique would pale in comparison to a large number of the superstars.
I've also heard the comparisons to Brock Lesnar.
"Maybe they get him a contract like Brock; you know a few million dollars, and a handful of matches."
That's crazy talk people!
Brock Lesnar is a bonafide professional wrestler. WWE trained and made him a star over the course of a decade. Believe me, I hate the fact that Lesnar is a
part-time wrestler
, but he's an actual wrestler. His draw is far more in that sport than Gronk could ever dream to be.
Plus, people in New England have a warped sense of his importance. He is a big star in the Boston area, but he's not the biggest star in sports, or even in football. The people who liken him to The Rock, well let me just say I liken you… to a rock.
Dwayne Johnson is one of the most charismatic people on earth. He is a master with a microphone in his hand. Although Gronk is somewhat amusing, he would never be held in the same galaxy as The Great One when it comes to entertaining a crowd.
The Rock is a once in a lifetime talent, no one is even on his level on the current WWE roster.
Gronk will be like all the other sports stars who went to wrestling – Karl Malone, Dennis Rodman, Shaq, Kevin Greene, and even A. J. Pierzynski – nothing special and around for a limited time only.
So fear not Patriots fans, you aren't losing Rob to wrestling, at least not full-time.
I'd be more worried about him doing horrible movies in Hollywood before I'd worry about him headlining Wrestlemania.
We as wrestling fans don't want him, so you can have him in Foxboro.