By Ray Ray 
This time of the year we always see some of the rising stars of NXT brought up to the main rosters of Raw and Smackdown. It can be a very difficult call to make since, historically speaking, not every superstar that had success in NXT is able to transition that on to the bigger stage (I'm looking at you Apollo Crews!).
Here are five NXT superstars I think are ready to go for a run on the main roster and five that need to stay down at Full Sail for a little while longer.
STAY
The Iconic Duo: Peyton Royce and Billie Kay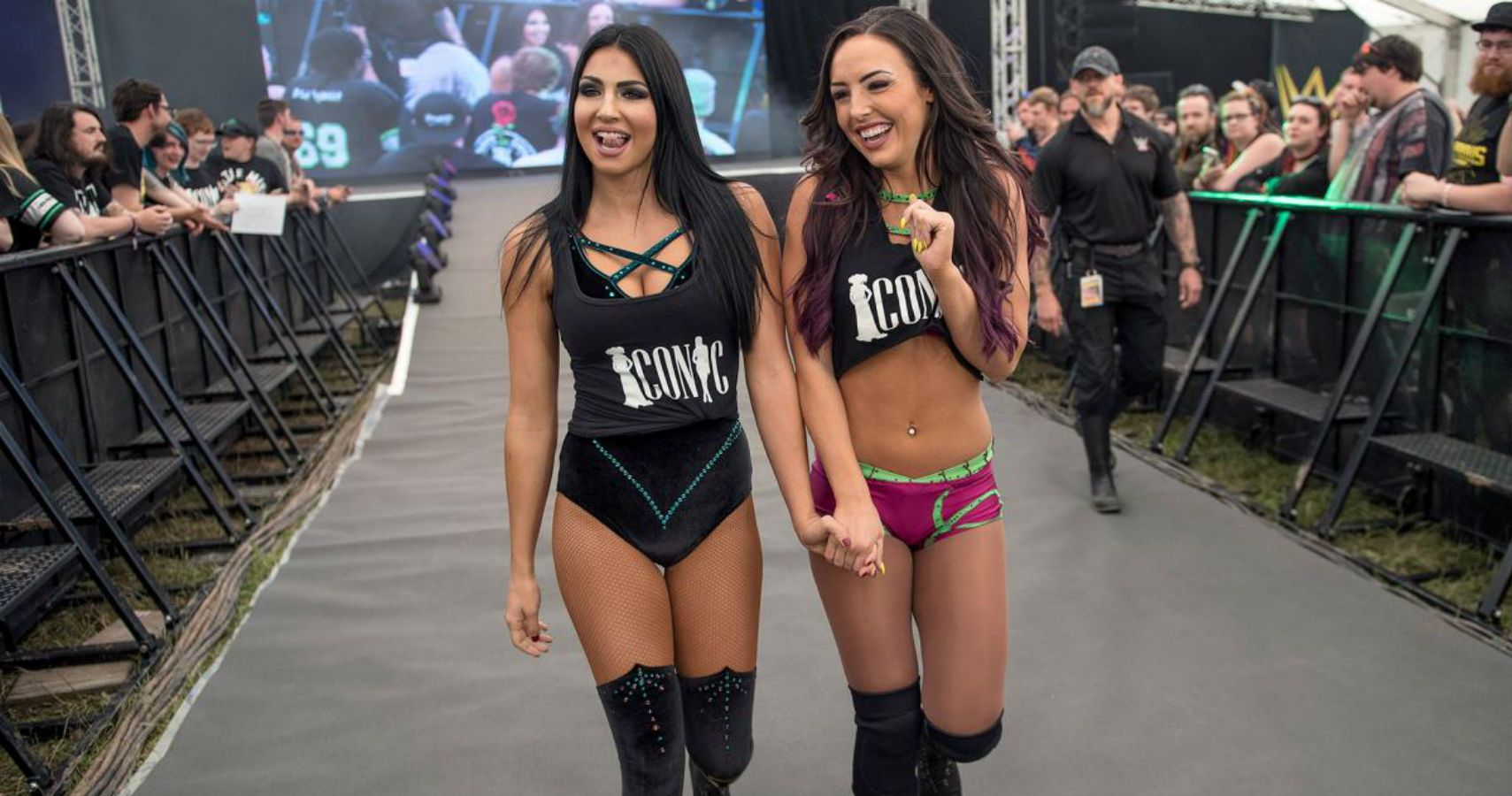 These two have a great thing going down on NXT. I see big things for them this year unfortunately it isn't on the main roster. They still need some signature wins, and I think they can get those in feuds this year with the likes of Kairi Sane and Candice LeRae. I wouldn't rule out a possible title run in their future. Also, let's be honest, the main roster already has women's factions on each show that are both struggling a lot, in my opinion. Not sure adding another one somewhere will help matters much
GO
Eric Young
As much as I love Sanity, I think their time has come. Eric Young has been ready for a main roster push since day one and now is the time to make that happen. We already know his potential for great matches with guys like Samoa Joe and AJ Styles, and I think he may finally be the guy to get a decent feud out of Bray Wyatt. He could be a solid mid-card guy on either show, but at the end of the day I think the sky is the limit for Eric Young
STAY
Adam Cole (BAY BAY)/Undisputed Era
I think we can all agree the Adam Cole (BAY BAY) and The Undisputed Era are just getting started in NXT. They are definitely ready for the main roster right now but I just don't think that right now is the time. The unfortunate injury to Bobby Fish seriously derailed the momentum of that tag team. Once he gets back (hopefully Summerslam weekend) I hope they regain those titles. As far as Adam Cole (BAY BAY) is concerned, I feel like he has a MONSTER NXT title feud in his future with. . .
STAY
Aleister Black
Your NXT Champion for most of it not all of 2018. Aleister took NXT by storm last year and I think this is his year to carry the brand. He will make it to the main roster eventually there is no doubt about that. He's got an amazing look, great in ring style, and is crazy over with the fans. This year I need to see him go to the next level and prove to everyone he isn't a flash in the pan.
GO
Buddy Murphy, Lio Rush and Roderick Strong
I bunch all these guys together because I would like to see them all go to the same place, 205 LIVE. Murphy and Strong showed they can stay up late on Tuesdays and hang with the talent of 205 Live by putting on some of the best matches not only in the Cruiserweight Championship tournament but of the year. If the rumors of Cruiserweight Tag titles are true, the roster needs to add some names and these three guys could absolutely take this division to another level
GO
Nikki Cross
Sticking to my "break up Sanity" comment from earlier. . . Let's break up Sanity! Nikki Cross has quietly been one of the best female performers of NXT over the past year. I loved her at NXT: Takeover War Games in the Fatal 4-Way, and her gimmick is totally different from anything on the current main roster. She could have success on either show but ideally I would like to see her on RAW giving us fresh feuds for people like Alexa Bliss, Sasha Banks and Bayley.
STAY
Shayna Baszler
I feel the same about her as I did about Aleister Black. This is her year to dominate and with a good amount of fresh talent coming out of the Mae Young Tournament, she can really put on a show. With Ronda Rousey claiming the "MMA gimmick" for the time being, it's probably best Baszler hangs down in NXT for at least another year. Her in-ring work does still need some polishing and I think another year working on the mic before she comes up will only help her in the long run. I expect big things for her this year in NXT and a very long Women's Championship reign.
GO
Ember Moon
Well, if Shayna Baszler is taking over the women's division then that can only mean Ember Moon is getting the call up! While I did want her to have a much longer title reign than this, you just can't fight progress.  It is Shayna's time now, and to be honest, that's a good thing for Ember. In the past there have been instances where superstars were held in NXT simply because the next star hadn't arrived yet. Baszler is here, so Ember can come up. Fantasy booking: Asuka beats Charlotte for the Smackdown Women's Championship at WrestleMania. Ember Moon debuts on Smackdown and beats Asuka for the title. Carmella cashes in on Ember Moon.
GO
Authors of Pain
It's time for everyone to get down with AOP (yea you know me)! This is such a no brainer, it makes my head spin. I wanted the Authors of Pain to challenge The Bar at Wrestlemania, but we get Braun steam rolling the tag division instead. No matter what happens with either tag titles at Wrestlemania, the Authors of Pain need to be on either Raw or Smackdown the shows after. (For the record, I prefer Raw)
STAY
Velveteen Dream
Last, but certainly not least, is my current favorite NXT superstar THE Velveteen D-R-E-A-M! This guy came out guns blazing towards the end of last year and his feud with Aleister Black was absolutely amazing and I feel like it only lasted about 2 weeks. He is primed for big things this year, and I really hope we get a second feud with Aleister Black but this time for the NXT Championship. I will admit my reasons for keeping him in NXT are also born out of fear. I am scared for him to move up to the main roster because I am afraid of a couple things. Crowds won't get into it OR (and this is my biggest fear) creative will ruin him and turn him into a joke. He is one of those NXT call ups I could see failing due to poor booking. I submit for evidence in this case Adam Rose and Bo Dallas.