WARNING! I don't know anything. I clearly can't change the business. This is just a lifelong fan who has wrestling experience wanting the product he loves to get better.
RAW Tag Division
As we look at the RAW tag division, it's apparent that there are NO credible teams. Here are the teams on the Current RAW Roster:
Authors of Pain (RAW Tag Team Champions)
Chad Gable and Bobby Roode
B Team
The Revival
Fashion Police
Heath Slater and Rhyno
Lucha House Party
The Ascension
Most of these teams have been presented to us in a joking light, nothing to take seriously.  There is not one team on this list that I believe could beat AOP, let alone make me care about this division. Tag team wrestling is an attraction and SHOULD be treated used as such. Don't throw people together unless you have a reason. We have been treated to hodgepodge tag teams for a very long time especially on RAW.
At this point, it really wouldn't take much for the crowd to get behind a babyface tag team. Give them a reason to come together, matching gear, and song change. Take the time to rebuild a division, because peeing on a robe isn't going to hold anyone's attention.
Women Need Their Own Show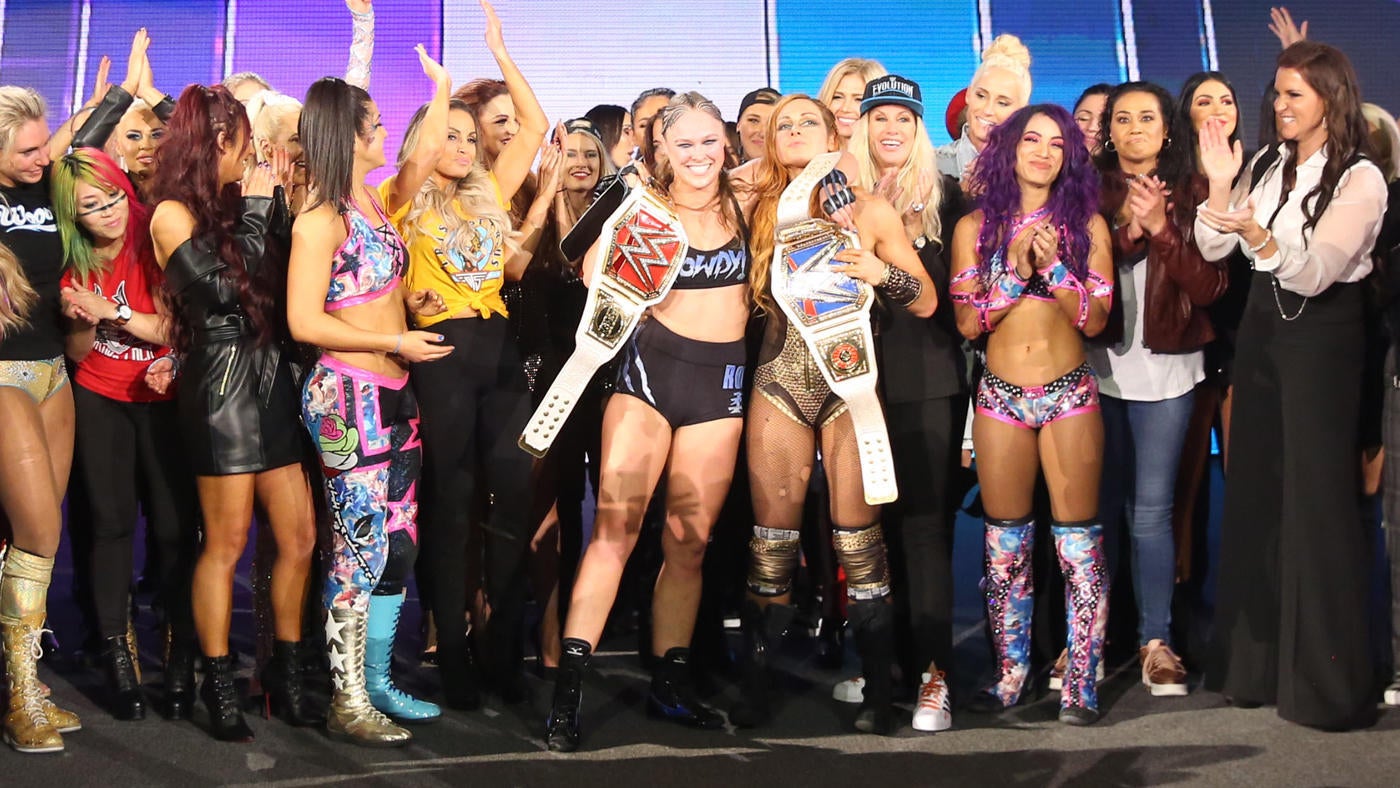 There are so many talented women in WWE. 15 RAW, 12 Smackdown Live, and 12 NXT competitors right now. Unless you're in the championship picture you're regulated to the quasi-tag team division that's limbo until they unveil the Women's Tag titles. I'm a huge Sasha and Bayley fan. I enjoy them in singles match, or in a tag. I don't like when I have to sit through Open Forums, counseling, this is your life, or any other terrible segment they just throw these talented people into. Let them wrestle with a put them in situations that make sense.
The real point is that most of the secondary storylines need more. More realism, more sense, more time! We are getting to the point where Women's Wrestling is finally equal! They deliver repeatedly. There so much talent not being used, and it's a shame. A one-hour program each week would make a world of difference.  You can get to know these characters, invest in storylines, and use RAW and Smackdown for the major women's storylines you need. Otherwise, we are subject to one championship storyline, and one multi-women segment for both Raw and SDLive.
Create a Network Championship
This next one I'm sure I'll get some pushback, but what the hell. Create a Network Championship, very similar to the TV Title in WCW. Make it something people must see. This Championship is only defended on PPV, Network Specials, NXT, NXT UK, 205Live, WHEREVER! The perfect candidate for this championship is Finn Balor. The man is an amazing talent who isn't going to become Universal Champion anytime soon. Finn Balor could win this championship defend it all over. He has ties to NXT and NXT UK, which make it easy for him to plug and play with pretty much any roster. As much as I joke about him going to 205 Live, imagine him defending that championship against Mustafa Ali or Cedric Alexander. This would give others credibility, as well as make the journeyman title mean so much.  DO IT, you won't!
Final thought
Fans, cheer and boo who you want. However, instead of bitching on the internet about something and then watching the next week needs to stop. If you really don't like someone, then if you're watching change the channel. If you're in attendance go get a snack or better yet be silent. We now live in an age where unless we all rally together, they aren't going to listen. So, the next time you want to complain about Nia Jax getting a push, or RAW being so bad, don't fall into the trap of screaming at the top of your lungs. That's what they want you to do. NO SELL IT… much like a lot of people do.