It's the most wonderful time of year for WWE fans.
Royal Rumble is the official start of Wrestlemania season and the 30-superstar rumbles will start really shaping the 8+ hour show we will see on April 7.
There's no shortage of rumors and uncertainty swirling around WWE right now. Where will Brock Lesnar be? Where will Kenny Omega land? Who will be facing Ronda Rousey? What will be the main event? Double these things with the talk of CHANGE in WWE, we could be in for an exciting ride over the next few months.
This is the way I like it. There's nothing worse than a predictable Wrestlemania season.
One of our favorite things to do here at the Jobber Knocker is to HOPE. Now, I'm not JC and I can't throw around #JCsHopesComeTrue, but I was definitely right once.
So without further or due, here's a look at what I think the Wrestlemania 35 card could look like.
Curt Hawkins wins the Andre the Giant Battle Royal
I had goosebumps when Curt Hawkins was in the final three in the battle royal a few weeks ago.
Hawkins' losing streak has to end at some point, right?
Since there's nothing really at stake except a big Andre trophy, why not end the streak on the Wrestlemania Kickoff. It would probably be one – if not THE – biggest pop of the night.
The Miz vs. Shane McMahon
This "Best in the World" story has to go somewhere.
Shane and the Miz are sharing the title of "Best in the World" (shoutout to Eli Everfly for claiming the other 1/3 after upsetting The Miz on Smackdown) and are now one of the weirdest mishmashed tag teams in the division.
They're lugging around the trophy and even have an upcoming Tag Team Title shot at Royal Rumble.
I could see this going either way, but I see Shane turning on the A-lister and firing up a rivalry. I don't think this match is necessarily a bad thing for The Miz. If you're fighting a McMahon, you're a pretty big deal in the company. Maybe there's a WWE Championship match on the line for Miz.
Smackdown Women's Championship
Asuka vs. Ember Moon
Everyone keeps talking about Charlotte or Becky winning the Royal Rumble or even pulling a Lex Luger/Bret Hart and co-winning the Rumble.
Part of me is hoping that predictable outcome is wrong. Ember Moon should win the Royal Rumble and go on to face Asuka is a huge rematch from their NXT days.
Their matches in NXT were, as JC says, SUPAH HAWT FIAH! (BUY THE SHIRT!) and I'd love to see them face off on WWE's grandest stage. It would definitely have the potential to be the show stealer.
United States Championship
Rusev vs. Kurt Angle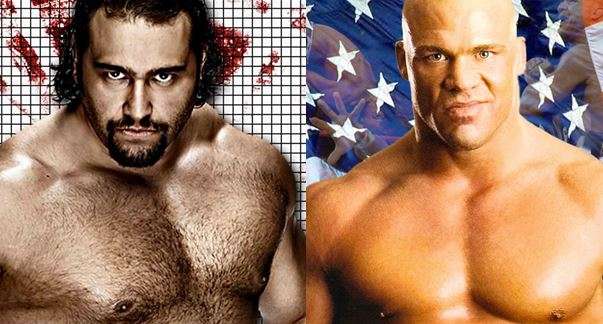 It has been teased on many occasions.
JC has hoped for this time after time. Is 2019 the year his hope finally comes true?
Maybe.
I have a feeling we're going to start getting a Rusev Day open challenge sooner or later, and I wouldn't be surprised if our Olympic Hero answered the call on the grandest stage. It would be a perfect Wrestlemania sendoff for Angle.
With that said, I really thought about having Velveteen Dream answer the challenge, but I think they'll wait until just after Mania and give him a more traditional call-up.
No Undertaker Match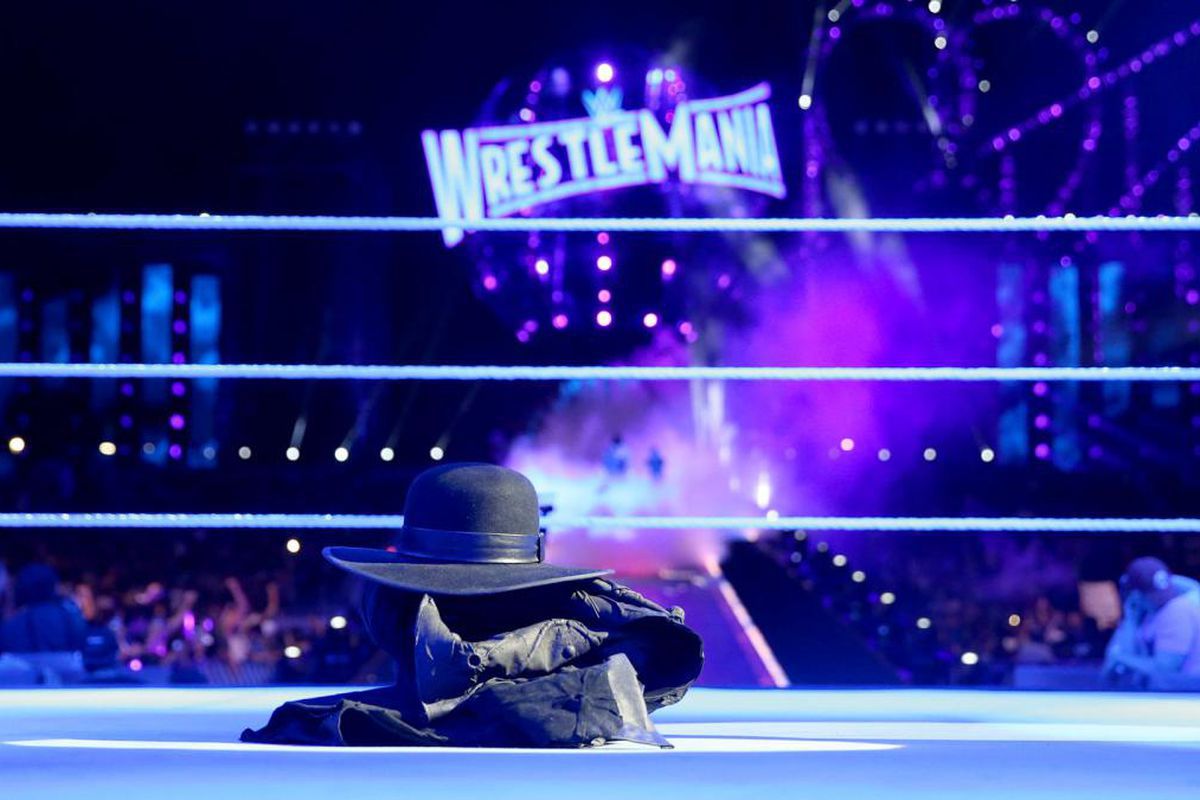 I'm probably wrong, but I think it's time for a Wrestlemania without an Undertaker match. It'll definitely be an end of an era, but I really hope the final bell has tolled on this Wrestlemania tradition.
WWE Intercontinental Championship
Dean Ambrose vs. Braun Strowman vs. Drew McIntyre
Braun Strowman may have talked himself out of a Universal Title run with an abysmal promo on RAW last week.
So where does this leave The Monster Among Men at Wrestlemania?
I'm thinking it lands him in a three-way match with Dean Ambrose and Drew McIntyre for the Intercontinental Championship. All three of them were part of the Shield rivalry in 2018 when Roman Reigns had the title, so there is some history there as well.
Triple H vs. Batista
They rarely tease things if they're not going to follow through. So we know it's going to happen at some point. Might as well do it while Triple H is still able to put on decent matches and hasn't fully transitioned into a backstage role.
AJ Styles vs. Kenny Omega
Sooner or later I had to go out really far out on a limb with one of my hopes.
That time is now.
Kenny Omega will probably end up choosing to join his friends in AEW after reportedly turned down WWE's offer last week, but this is definitely a dream scenario for me.
This story writes itself. Omega and the Bullet Club gave AJ a rude sendoff from New Japan and the two haven't seen each other since. And you can't ignore their similar journeys from North America, Japan and back.
I can also imagine Gallows and Anderson becoming relevant again and getting involved because they have strong history with both.
WWE Championship
Daniel Bryan vs. Finn Balor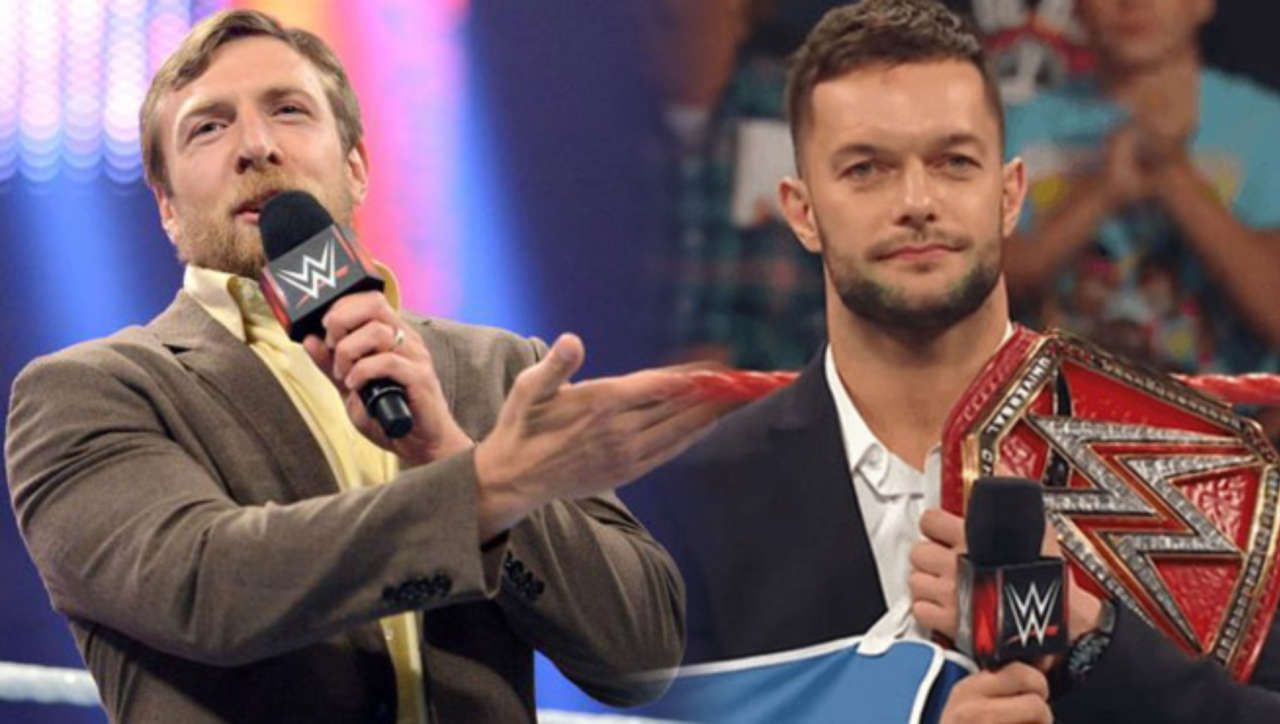 This is why I love an unpredictable Royal Rumble. I can totally see Finn Balor winning and challenging Daniel Bryan for the WWE Championship.
Balor would greatly benefit from a move to the Blue Brand – we've only been saying it for a few years – and he and Bryan could have a potentially show-stealing match. But this all hinges on Balor winning the Rumble.
That brings us to. . .
WWE Universal Championship
Brock Lesnar vs. Seth Rollins
Seth Rollins appears to be the favorite to win the 2018 Royal Rumble and he is expected to face Brock Lesnar for the coveted Fruit Rollup Universal Championship.
But I don't think he necessarily NEEDS a Rumble victory to face The Beast at Wrestlemania.
I fully expect Rollins to beat Lesnar at Wrestlemania and close the book on the story that started when The Architect stole the WWE Championship from Roman Reigns and Lesnar at Wrestlemania 31.
RAW Women's Championship – Main Event
Becky Lynch vs. Charlotte Flair vs. Ronda Rousey
I wouldn't be happy if WWE forced a Women's Championship match into the main event of Wrestlemania just for the sake of "first time ever!"
But this match has EARNED the coveted spot.
If not for Gargano and Ciampa, Charlotte vs. Becky would have been Rivalry of the Year. And let's not forget the fact that everyone EXPECTED Charlotte to get the main event crack at Rousey and Becky stole the spotlight when she morphed into "The Man."
The door closed on Charlotte and Becky (or so we thought).
The build-up to Becky vs. Ronda was arguably the highlight of 2018, then it got derailed by Nia Jax's reckless fist.
Charlotte was inserted right back into the picture.
Then Rousey cost Becky and Charlotte the title in the Triple Threat against Asuka.
Could Rousey cost them both again at Royal Rumble?
There's the little issue of Rousey being on RAW and Becky and Charlotte on Smackdown, but we've learned that there is nothing stopping WWE from disobeying the Brand Police and blurring the lines. . . especially when there's a main event like this at stake. I mean, the McMahons are running both shows now and they say they're going to do what's best for business.
Follow DQ on Twitter at @DQoftheJK and let him know what you think. What matches do YOU think we'll see at Wrestlemania 35.