This event was trying to up the ante from Wrestlemania 1. This was a huge endeavor that had not one, not not, but THREE locations. New York, Chicago, LA. (A combined attendance of 40,085.) We start in NY where Vince kicks off the show with Ray Charles who signs America the Beautiful which was excellent. They throw quickly to Mean Gene in Chicago, and then a Rowdy Roddy Piper promo talking about his boxing match with Mr. T. A lot talking to really set the stage that has the potential to be a really amazing event.
MORE NESTLEMANIA WRESTLEMANIA REVIEWS
In New York, Mr. Wonderful (as a babyface) takes on "The Magnificent" Muraco with Mr. Fuji. This wasn't really a match, it was 4:10 and ended in a double count out. The Crowd did not like this at all and starting a thunderous "BULLSHIT" chant. It's funny considering the kid-friendly product they were putting out at the time.
In doing my research for this event. A part of this match was edited out where Mr. Wonderful looks at Mr. Fuji and makes a racist slanted-eye gesture and gives the Italian FU gesture. So much for being a babyface Mr. Wonderful. (Grade: F)

Next is an Intercontinental Championship match involving The Champion Macho Man Randy Savage and George "The Animal" Steele. Randy Savage worked overtime in this match. Steele isn't exactly someone that screams athleticism, however, this was a decent match on the card. There was a spot that stuck out where Steele starts hitting Savage in the face, IS THIS NOT A DQ!? Either way, it was creative. Savage eventually gets the best of Steele with the feet on the ropes. 5:10 Short to the point (Grade: B-)

Quick match that was 3:15 as Jake Roberts beats George Wells. Not much to say about this own except that The Snake debut a couple of weeks before Mania and was on the card. This is a major thing even today. To have a spot on Wrestlemania you usually need to an establish feud. (Grade: Too quick to Grade)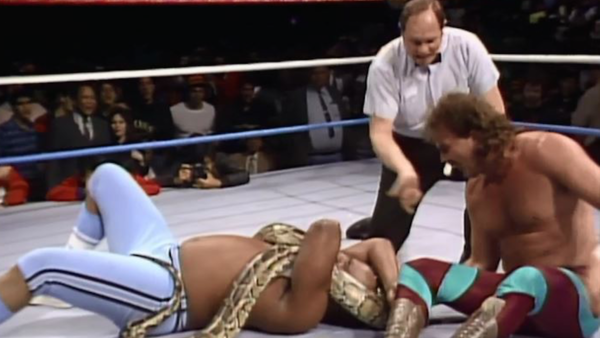 Finally NY's Main Event: Mr. T vs Roddy Piper in a Boxing Match. There's a long list of celebs for this one. I'm not gonna bore you with them. This match was interesting to me it was something you don't normally see. This entertained me for the most part. Go back and watch this one. A lot goes on in this. Mr. T goes down twice in one round, Cowboy throws in some heel tactics in between one round throwing water on T. Mr. T punched Piper out of the ring which was hilarious and so much more. By the 4th Round, you could tell they were spent. The punches were more worked than usual but the gave the Hollywood comeback to Mr. T, only to have Piper pick him up and body slam him. It was a non-finish which I get would piss a lot of people off. However, his one stands out as completely different but in it's so bad its good kind of way. (Grade: C+)

Switch over to Chicago!

This portion of the show starts with The Fabulous Moolah (Not gonna make a joke about her) vs. Velvet McIntyre (No relation to Drew) for the WWF Ladies' Championship. Legitimately, this match was 1:25. Moolah wins even though the ref didn't see McIntyre's foot on the rope. This was a complete waste. Hated it. (Grade: F)

Next, Corporal Kirchner vs. Nikolai Volkoff w/ Freddy Blassie in a "Flag match." I use quotes because this isn't what we usually think of when you hear that term. Usually someone climbs grabs the flag and wins the match. This match was not like that. The winner had the right to wave their flag at the end of the match. I wish I was kidding. This match was 2:05 with the Corporal bleeding! IN TWO MINUTES HE'S FUCKING BLEEDING! WHY? Finish comes with The Corporal intercepting Blassie throwing the cane to Volkoff and smashes Nikolai in the face for the win. Cheating is totally OK when it's for America! Just based on how much this match made me angry. (Grade F)

The WWF vs. NFL Battle Royal is next. This was supposed to be the big draw in Chicago especially with William "The Refrigerator" Perry in the mix. However, was not the main event in Chicago? Weird. Anyway, after all the NFL players get dumped out its Andre vs. the Hart Foundation. Just like Hogan must pose. Andre must win Battle Royals! The Frenchman wins in 9:13. It was a PR move. I'm sure it did what it needed to do. (Grade: C)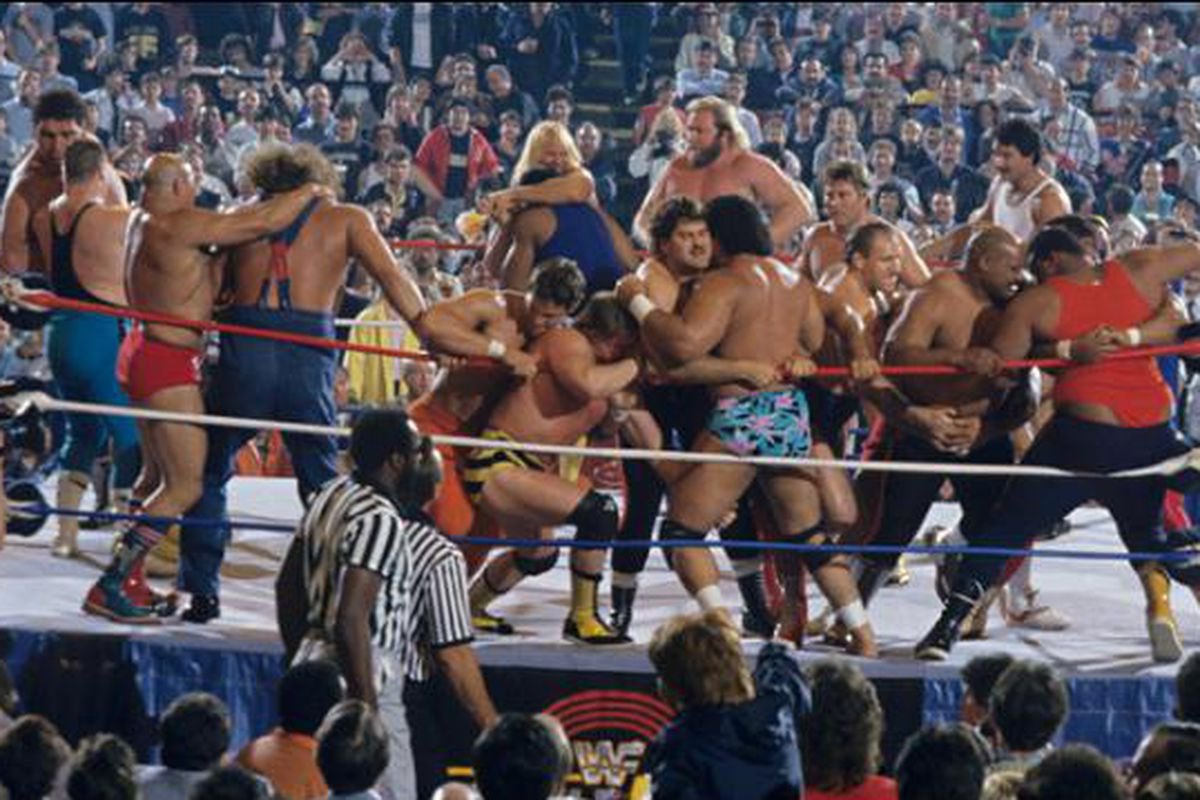 Last Match in Chicago was The British Bulldogs w/ Captain Lou and OZZY vs. The Tag Team Champs, the Dream Team Beefcake and the Hammer w/ Jimmy Valiant. Right out of the gate, this match was the best by far wrestling wise. Back and Forth, great tag team wrestling. Was one of the only shines in a night full of turds. The finish of this match was creative, Dynamite kid is on the outside on the second rope hanging over looking for a tag, when Davey boy launches Valentine right into the skull of Dynamite Kid. Dynamite goes flying out of the frame and Davey gets the pin on Valentine. NEW CHAMPS! Slightly Comical moment while the Bulldogs are trying to compose themselves on the outside Captain Lou and Ozzy are in the ring being interviewed as if they were the tag champs neither of them check on the Bulldogs until the very end. It was very, very selfish. (Grade: B+)

Finally, we go to LA.
First off, I have to point something out. Being a super wrestling nerd, I popped harder than I should have when I saw Lee Marshall (The Dude from on the 1-800-Collect WCW on the Road bites) doing the ring announcing! That guy's voice is magic, I'm telling you!

The first match for LA is Steamboat vs. Hercules. This was your typical good Steamboat match. He got beat up for what seemed like an eternity, fired back and won with a cross body. Match went 7:27, although one of the longer matches of the night it wasn't something I will remember. (Grade: C+)

Next, I want to wash this from my memory as Adrian Adonis took on Uncle Elmer… WOOF! Fuck this match. Adonis did what he could for Elmer, even though Elmer should not be anywhere near the ring. The match was 3:01 and it was 3:01 too long. NEVER WATCH THIS MATCH! (Grade: F)

Quick Promo with Hogan calling out Lord Alfred Hayes. Hogan calls Hayes "Awful Alfred" turning to use his Hogan dust to spawn another nickname like Mean Gene and it failed miserably. That's all I took out of that.

The Funks (Hoss and Terry) vs. Junkyard Dog and Tito Santana are next. I cannot overstate how fucking over JYD. That man is something else. This was a pretty decent tag match in 11:42, but it had a lot going on. At one point Terry Funk (he's middle-aged and crazy) takes terrifying back body drop from into the ring to the concrete. GODDAMNIT CACTUS I'M THE FUNKER! Heels win when Jimmy Hart throws the megaphone in and bang Funks pick up the W at Wrestlemania. (Grade: C+)

Now, Let's kill some time – 10 minutes, in fact – as they construct the cage. They throw to this video package showing the Main Event feud. Then after that, it's an interview with Hulk and his doctor. (Who by the way is wearing a SLEEVELESS HULKAMANIA SHIRT! WTF IS THIS?) It was the only thing I could stare at. It was out of place. Hulk sells the injury, but somehow still wants to show off that he can put a 100 lbs dumbbell around his neck and do pull-ups. Because why not! After we get a serious Heenan Promo with King Kong Bundy, Nothing funny here with Bobby, and Bundy could actually talk.

After we get through the celebrity schmoz – too much, even for me – finally we get to the main event. Hulk Hogan defends the WWF title against King Kong Bundy inside of the Big Blue Steel Cage.

This is the only Cage match in Wrestlemania history. JC hates cage matches so I know he will love this stat.

Anywho . . . I did enjoy the overhead cam they used for the main event. It was from the top of the stadium and it just made this match feel so much bigger. There wasn't a lot to the match either Bundy hurt hulk's back, Bundy would go for the door a couple of times, Hogan eventually hits a giant scoop slam the crowd ate up. Finally, after Bundy started bleeding from being thrown into the cage a bunch, Hogan climbs over the cage and tries to fend off Heenan. Hulk's feet hit the floor before Bundy goes out the door. It was fine. Nothing really happened in this match. It was a typical Hogan match. It was not that special it could of happened anywhere. The night ends with The Brain running back in the cage Hulk throwing him around and of course, the nights not over until HOGAN POSES!(Grade: C-)

Legend is that Heenan had a bad neck, was in the hospital and got a phone call from WWF Management saying if you don't show up to Mania "You're fired." Bobby checked himself out came to Mania, let Hulk throw him around into the cage, and then went back and checked himself back in. That's pretty gangster.

Conclusion: This was a terrible choice to have three locations for Wrestlemania. It's a lot of work. You could tell the miscommunication has high across the board with an event like this. Things were really all over the place production wise. Fink didn't know when to announce the winners. He kept looking for people to tell him what to do. During a Mr. T promo, the Fink talks over it announcing the decision to Muraco and Wonderful. Going to Chicago, talking to some football players and John Stud you could hear the audio from NY still playing. It's stuff like this that happens to people who aren't the WWE, but to see it happening to them at this major event was just odd.

8 out of the 12 matches were under 10 minutes, and there weren't any reasons to care about a lot of these matches. The saving grace of this Mania was the tag team title match. Go back and skip the rest. I can see why people truly hate this Mania.

I'll be watching four more Wrestlemanias. Wrestlemania 9, 11, 15, and 27. Hopefully, I make it out alive.