Monday afternoon we got the news that many of us have assumed for quite a few months, that the Raw Women's Championship match would Main Event Wrestlemania 35. The writing had been on the wall for quite some time. I personally had been saying to friends I thought it was going to happen sooner, and it would be more of a surprise than be announced, but I think it is beyond well deserved for the work that EVERY single woman has done in the WWE.

I look back at women's wrestling, like most wrestling fans, and remember it very differently. Sure, there were some great women in the last two-decades; Ivory, Jacqueline, Lita and Trish are just a few that immediately come to mind. But what is the first thing about women's wrestling in the WWE that comes to your mind:

"PUPPIES!"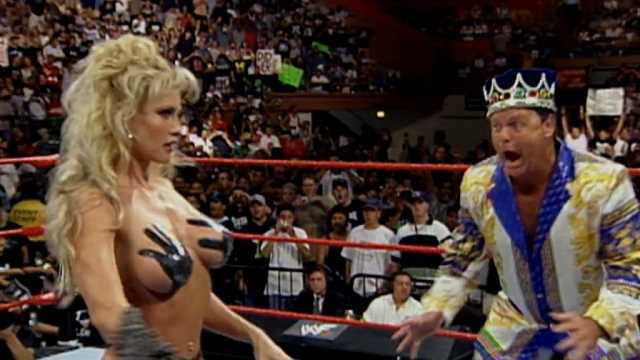 That's right. I remember as a teenager watching Raw, or a Pay-Per-View getting pumped that there was going to be a Bra-and Panties match. I mean, that meant I got to see Stacy Kiebler in a thong! That was the highlight of the night. And, if it was a normal match, it was often time for a piss break. I had never seen a line for a men's room until I went to Royal Rumble 2003 when Torrie Wilson had a match with Dawn Marie.

For a while after that, Women's wrestling lingered. There were a few teases of greatness. Lita and Trish were the first women to Main Event Monday Night Raw. Beth Phoenix, Natalya, Michelle McCool, and even Mickie James brought a new look to the Women's Division, but it was still missing something.

You can try and pinpoint when it started. You can say it was the Bella Twins, you can say it was Paige, but I can tell you where I think it was; the Four Horsewomen of NXT. As a wrestling fan who will openly admit that I didn't care about the women's matches, I put it on Bayley and Sasha. Watching their feud in NXT, culminating in the Last Woman Standing Match at NXT Takeover: Respect, turned me around on Women's Wrestling completely.

But enough of the history lesson, we all know about where this Revolution has lead us. What does this mean for the future though? In 2016 I found out that I was having a daughter. Lots of thoughts circled my head, but the one that I never forget was watching Hell in a Cell and seeing Sasha and Charlotte in the first Women's Hell in a Cell match. I looked across the room and said to my wife "I hope that Madeline gets to see women Main Event Wrestlemania one day." She rolled her eyes and smiled, but look at what has happened since that day.

So, next Sunday night, we will see the culmination of a battle that has been raging for years. Women's Wrestlers from the past and present, from other promotions, to wrestling schools, to even toddlers whose dad's will wake them up to see such a momentous occasion even if they don't understand it, will see a spectacle that will change the face of Wrestling for years to come. Girls now can look up to WWE Superstars and feel empowered, and know that if they have a goal, or they want to do something, that they can do it.