A little less than a year ago, The Elite brought us All In, the largest independent wrestling event to date. After forming All Elite Wrestling (if you didn't read my hype post about it, check it out) they announced their first event: Double or Nothing. That's right, with nothing but t-shirts, social media hype paired and random appearances at various Indy events, they will be putting on their first major show as a company. We all know they will have a TV show heading our way on TNT this fall, but AEW did something super unique leading up to this show.
As we learned this week from social media and the filthy sheets, the originally planned match between Adam "Hangman" Page and PAC was called off. While I have been very open that I am not a huge PAC fan, I was excited for this match. It's a shame, really. Page was a huge cog in this machine, and one that was due for greatness in AEW. In addition, I think Page was the one who took the biggest risks going to AEW. Cody, the Bucks, and Omega are all made men. They are big names in the industry and if something happened to AEW, they could find work. Page, on the other-hand, was deemed the future of Ring of Honor. When he became a free agent, he was highly sought out after by WWE and ROH. We all knew, however, that he would end up at AEW. I still think he will be in action. Whether it is something announced before the night to gain a few extra buys, or it is an 'open challenge' at the event with a good surprise, he will be there in some form.
SoCal Uncensored vs. Strong Hearts
I fully expect this match to start off the actual pay-per-view. Christopher Daniels and Frankie Kazarian are probably two of the most underrated wrestlers in the industry today. Their team has taken many different monikers, but one thing has stuck is their outstanding ring-work. When they added Scorpio Sky, they added a bit of the future to their team.
Their opponents, however, are no laughing matter. When AEW was announced, they touted their relationship with Oriental Wrestling Entertainment. At the time I had never heard of them, however once they mentioned that Cima was the owner I immediately hit up YouTube. For those who have never seen Cima wrestle, you are in for a treat. Cima was the winner of Pro Wrestling Guerilla's Battle of Los Angeles 2007. This is one of the top tournaments involving Indy stars from around the world, so winning it is quite the honor. His tag team partners; T-Hawk and El Lindamen are two OWE stars that Cima will help showcase. If this is your first time seeing these guys, I think you will be really hooked. I think Cima and company will win the match, as looking ahead to AEW's third show, it looks like they have big plans for Cima. He will be facing Kenny Omega at AEW Fight for the Fallen.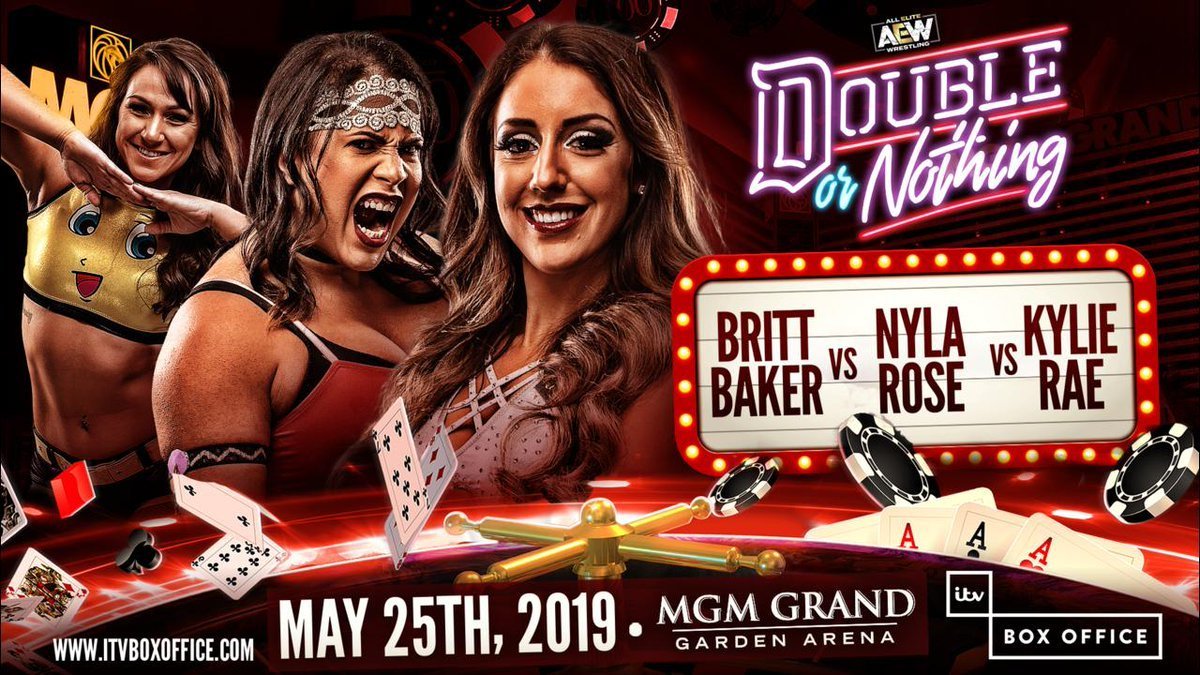 Dr. Britt Baker vs. Nyla Rose vs. Kylie Rae
This match adds another historic moment for AEW, as Nyla Rose will become the first transgender woman to compete in a major wrestling promotion's PPV. Don't let that be the major story though, as these three women can compete. Dr. Britt Baker was one of the original women announced for AEW, so I foresee a good push for her from the start. I think that she will go away with the victory as she helps lead the AEW women to start this company's Women's Division off right.
Cody vs. Dustin
Many have said that this is the match that WWE missed out on. While yes, in a way they did, I think this is the perfect platform for it. Cody is at the best in his career at the moment. On the mic, in the ring, whatever he has done since leaving WWE has been gold. Dustin is at the end of his career. He had an outstanding career as Goldust in WWE, however the feud there was always going to be Goldust vs. Cody/Stardust. It never would have been Dustin. This allows that personal, family experience to come out, and for an almost new wrestler that we haven't seen in a long time come out. I fully expect this to be Dustin's last match of his career. Whether he works in a backstage role for AEW or WWE remains to be seen, however with his lineage and ring IQ he will be a top free agent in that aspect. Cody will get the win, as that is how retirement matches go.
21-Man Casino Battle Royal
As soon as it was announced that this Battle Royal was going to give the winner a chance to meet the winner of Omega/Jericho for the inaugural AEW Championship, I realized it had MJF all over it. That man is a future star. His work in MLW was unmatched in that company. And being announced as one of the first AEW signings pretty much christened him as the future. There are a few holes for surprises. Many think Johnny Moxley will make his debut here. Not sure if that is going to happen, but I am sure someone will make a shocking debut for sure!
The Young Bucks vs. The Lucha Bros
Up until Jericho's announcement that him and Omega were going to be the main event, I thought this one would end the show. This match has "Match of the Year" written on it. I am a big fan of Tag Teams, and with these two it is no exception. Both of these teams have great chemistry. I was shocked when the Bucks defeated the Lucha Bros on AAA TV for the Tag Team championship. Ultimately it set up this match to be for the title, which I expect the Lucha Bros to win back their title.
Kip Sabian vs. Sammy Guevara
A match between two wrestlers who were initially supposed to be in the Battle Royal will kick off the "Buy In" pre-show. As with most matches in the Indy world, I expect it to be fast paced with lots of flying. Both of these stars get to kick off the world of AEW, which is a huge spotlight for them!

Aja Kong, Yuka Sakazaki and Emi Sakura vs. Hikaru Shida, Riho Abe and Ryo Mizunami

I won't lie, this match I had to do some research. The only one in here that I had seen wrestle was Aja Kong. She is a legend in Japanese wrestling. If you want to get a good glimpse of her, pull up your WWE Network and check out Survivor Series 1995. In that event she won a Survivor Series match by eliminating 4 women, including then champ Alundra Blaze. It was a shame the Women's division ended shortly after that, as perhaps things would have been a little different. Kong went on to trail-blaze women's wrestling in Japan, which leads us to this match. Kenny Omega brought the best of Japan's Women's wrestling to showcase at Double or Nothing. For nostalgia purposes, I think Aja Kong's team will win.
Best Friends vs. Angelico and Jack Evans
Just want to go on record on saying that I love the Best Friends. Chuck Taylor and Trent Beretta are a fun team, and I won't lie, their name is hilarious for two grown men. Angelico and Jack Evans are no laughing matter though. These two tore up Lucha Underground (before they went downhill.) Angelico was one that was always impressive, which is why I'm excited he gets a big stage like this to perform. As I think Tag Team Wrestling will be huge in AEW, I think the Best Friends get this win, as they are an established team that is ready for the future.
Chris Jericho vs. Kenny Omega
Chris Jericho announced on his podcast this week that this match will be the Main Event. JC called this match a "Re-Run," I call it "Part Two of a trilogy." Their match at Wrestle Kingdom 12 was outstanding (if you haven't seen it I highly suggest that you check it out.) Kenny Omega brought out a lot in Jericho that we hadn't seen in a while. Jericho also adapted his game a lot. As he has said on his podcast, he certainly is not the same Chris Jericho that we knew years ago. He has aged and has had to adapt his style. The winner of this match takes on the winner of the 21-Man Casino Battle Royale for the inaugural AEW Championship, which adds a little more wrinkle to this saga. As I think this will be a trilogy, I expect Jericho to come out with the win on this one.
All Elite Wrestling was not messing around with their first event. I, for one, am having an old school PPV party to celebrate. There was no way I was missing the first event of this bold organization. Hopefully you will be checking it out. I will be live tweeting throughout the night Saturday. Hopefully everyone enjoys Double or Nothing and their Memorial Day weekend.
For more insight and wrestling thoughts, follow me on Twitter at @TJoftheJK