It's time for AEW's 2nd event. This one is a little different, as it will be tied in with Fyter Fest, a fighting video game event, in Daytona. We all know VP Kenny Omega is huge into fighting video games, so this is a natural tie in. The event streams live and free on the Bleacher Report Live streaming service, so no need to shell out 50 bucks this time! Here is what we are looking at.
Michael Nakazawa vs. Alex Jebailey
This match confused me, as it is on the pre-show, yet is the match that is on the main poster for the show. It also confused me because, well, Alex Jebailey is not a wrestler. Jebailey is actually the founder of CEO (Community Effort Orlando) and the Fyter Fest. Truly, I have no idea where this match is going, but Nakazawa was in the forefront of Double or Nothing. He got a formal announcement in the Battle Royal, along with a brief segment with the Jacksons backstage. One can assume Nakazawa walks away victorious, but with it being a hardcore match, who knows.
Kylie Rae vs. Leva Bates
"Smiley" Kylie Rae looks to continue the momentum that she got going at Double or Nothing against Leva Bates. Bates, as NXT fans may remember as Blue Pants, didn't get to compete at Double or Nothing and was only part of a forgettable Librarian scene. It will be good to see these two go at it, as I fully expect Kylie to get the victory and continue to move up in the Women's Division.
Best Friends vs. SoCal Uncensored vs. Private Party
This triple threat match will give the winner of the match a first round bye in the AEW World Tag Team Championship tournament at All Out. That's right, a pre-show match that has stakes! This match will be the AEW debut of Private Party (Marq Quen and Isiah Kassidy.) While those two are certainly a team to watch and would love to see them move on, I don't see them walking out of this victorious. Best Friends and SoCal Uncensored are two huge tag teams on the Indy scene, and I expect one of them to walk out and get the first round bye. I am leaning towards Best Friends in this one.
Christopher Daniels vs. Cima
This matchup potentially could be a quiet match that could steal the show. I think this match will be a classic Indy style match, with a slow start and high speed finish. I expect Cima to come out on top, as he has Kenny Omega up next at Fight for the Fallen, so he needs some strong momentum going into that.
Yuka Sakazaki vs. Riho vs. Nyla Rose
Nyla Rose was quite upset with Brandi for putting her in yet another Triple Threat match, accusing her of eventually making it a 4-Way again. I think this is Nyla's spotlight. It's time that AEW builds her up to be a monster and a dominant force in the AEW Women's Division. I'm not saying it will be a squash, but I fully expect lots of power to out-do the high flying of Yuka and Riho. I also expect Awesome Kong to jump in somehow.
Adam Page vs. Jimmy Havoc vs. Jungle Boy vs. MJF
This match was built off of the brawl that came about during the AEW Championship presentation at Double or Nothing. Will Chris Jericho interfere and take Adam Page out of the situation? Will Jimmy Havoc pull some sort of extreme nonsense into it? More than likely both of these are a big "Yes." I think MJF will win this one and insert himself into the Championship match at All Out.
Jon Moxley vs. Joey Janela
With these two, saying "expect the unexpected" is an understatement. With it being an unsanctioned match, I expect a lot of crazy violence, on a stage that many people who know Mox as Dean Ambrose won't understand. I have never seen a Joey Janela match that hasn't been intense. This is Mox's time to shine, as he can help establish himself as a top star in this new company. Expect Moxley to walk away with the victory.
Cody vs. Darby Allin
All Elite adding Darby Allin was funny to me, get it, he was "All In." Ok, now that we are past that, this matchup is interesting to me. Allin notably competed against a lot of WWE and NXT talent while in Evolve, and most of the time took the loss. Cody will walk away with the victory in this one, but I expect this to be a different kind of showcase in comparison to Cody's storytelling match with Dustin at Double or Nothing.
The Elite vs. Lucha Bros and Laredo Kid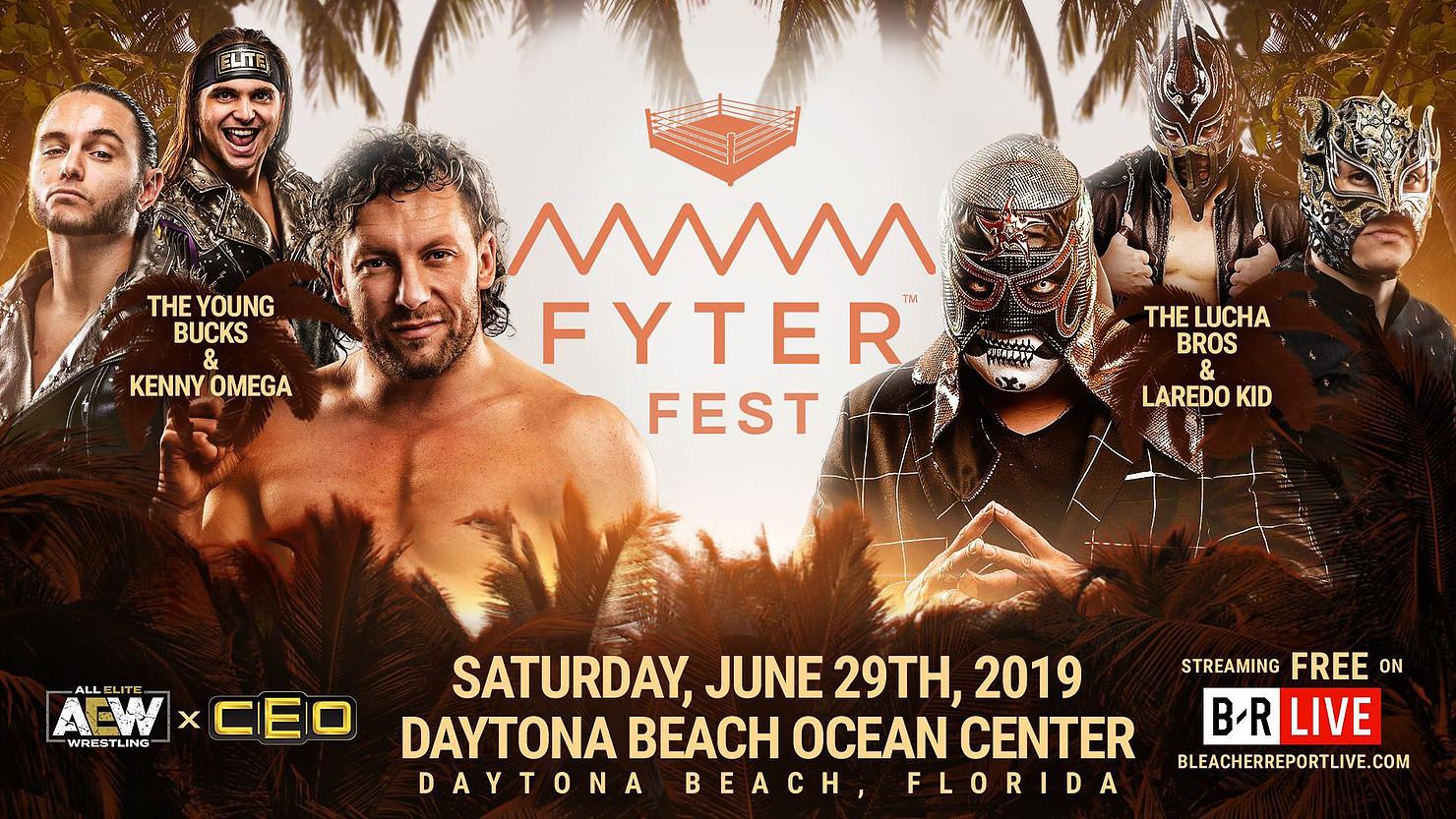 AEW definitely dropped the ball on this one. Originally it was booked as The Elite vs. Lucha Bros and PAC, however with PAC out, it left an empty spot. I think wrestling fans around the world were wondering "who the third man" would be, especially when they are in the same arena as Bash at the Beach 1996. However, they quickly filled the spot with the Laredo Kid. Not a bad fill, however it was underwhelming in comparison. I completely see The Elite walking away with the victory in this match, giving them momentum heading into the next round of shows.
This card is pretty stacked, and should be a great show. That being said, All Elite is quickly running into the same issue that WWE has; an excess of talent and nowhere to go with them. It is still early, and AEW has time to build a master plan around it, however if they don't come up with a quick solve, they could lose their strong upstart fanbase quick. Let me know your thoughts, and make sure you check out Fyter Fest on Bleacher Report Live this Saturday! And as always, follow me on Twitter @TJoftheJK for all sorts of wrestling insight and analysis.