AEW is ready to put their third effort forward this weekend, as we gear up for Fight for the Fallen. This is a unique event, as AEW puts forward their political views as proceeds from ticket sales go towards the victims of gun violence from the event that happened last year in Jacksonville. I, personally, am a fan of this. However, I do know quite a few people who weren't fans of this announcement. Regardless of this, I can't imagine that this pleases the fans that trash WWE for doing multiple events within weeks, as Fyter Fest was just 2 weeks ago! I digress, here is what the card looks like.
Brandi vs. Allie
Allie's match at Fyter Fest wasn't the best display of her skills. This match probably won't do much better. Brandi hasn't competed in a match since ROH in November, and her total matches competed in are completely minimal. With the fact that Brandi is playing an authority figure, I fully expect her to elect someone else to compete for her, maybe Awesome Kong? My expectations are low for this one.
Kenny Omega vs. Cima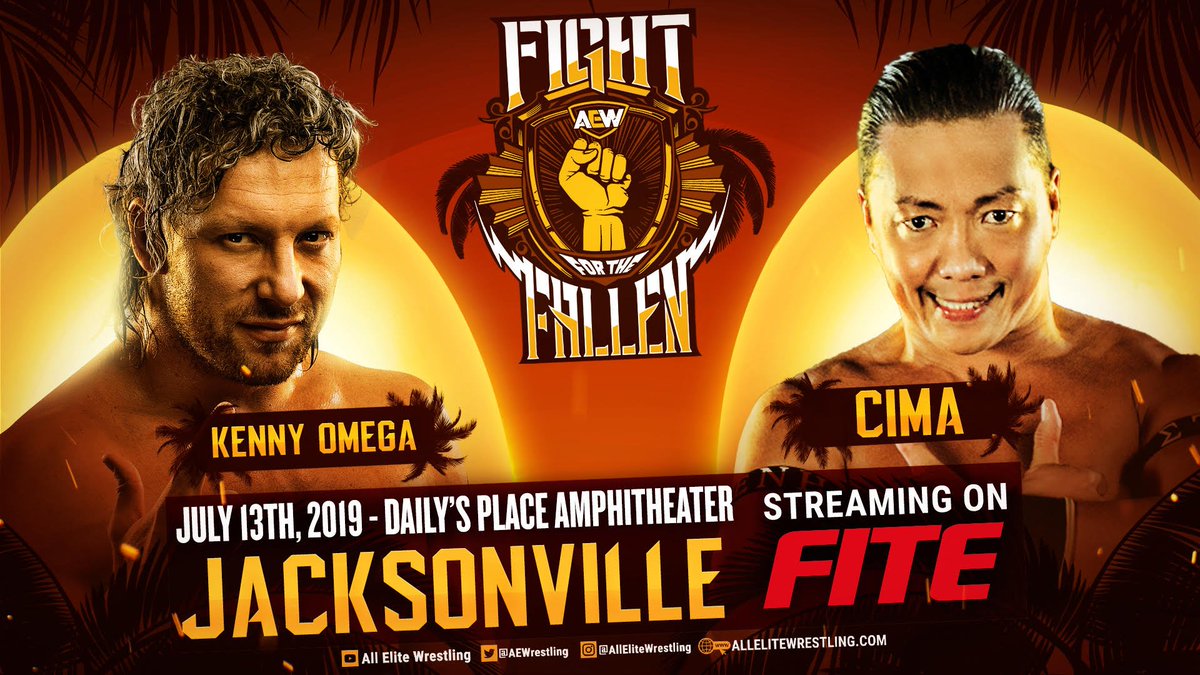 This is the match on the card that I am most looking forward to. Both of these guys are outstanding workers, and both will for sure be competing for the AEW Championship in the near future. That said, I think Jon Moxley will chime in somehow, as I don't think that he was overly thrilled with the way that his night ended at Fyter Fest. I think Cima will get the win after Moxley's help, continuing the momentum that he has going for him.
Cody and Dustin Rhodes vs. The Young Bucks
I am excited for this one, as it potentially can show the Young Bucks' depth. So Far, we have only seen the Young Bucks compete against the Lucha Bros, which has been outstanding, however people that are new to the Bucks only see them as Lucha style wrestlers. The fact that they will have to slow down their style to match the Rhodes' will be a different pace for them. Being able to do this will prove that they are the best out there. That said, I think this is Dustin's night, as I fully expect him to retire after this one.
Adam Page vs. Kip Sabian
I really enjoyed Sabian's match at Double or Nothing. It was a shame that it was covered up by the rest of the mediocre pre-show. Most importantly, this is Adam Page's first one-on-one match in AEW. I expect this to be a fast paced matchup, and in my mind it is all too obvious that Page will get the victory. I can't help but think that Chris Jericho will somehow inject himself into this one, even if it is during a celebration.
Jimmy Havoc, Darby Allin and Joey Janela vs. MJF, Sammy Guevara and Shawn Spears
This match is probably giving Nestle a small headache. A company with all of the momentum in the world literally threw together a 6-man tag. This is NO better than any match at Raw. At least they didn't make it a 2 out of 3 falls. I don't think anyone wins in this one. I am sure this match will spawn a feud or two leading up to All Out.
SoCal Uncensored vs. Lucha Bros
Both of these teams will be looking for some major momentum going into All Out, as there appears to be a Tag Team Tournament brewing for that one. Just like the other tag match on this show, this match will show us the depth of the Lucha Bros. Anyone who knows those two are well aware that they can have an outstanding match outside of the Lucha world. I see SoCal Uncensored will get the victory in this one, as they have a 3rd man out there to help them out.
This card doesn't look that bad. I'm surprised with all of the angst about going up against the Evolve show that they haven't pulled out any quick announcements to hep themselves out. There is still time, but until then, it looks good! This will probably be the last free AEW show on B/R Live, so make sure you check it out!
Check back with me on Twitter @TJoftheJK for all insight and analysis.